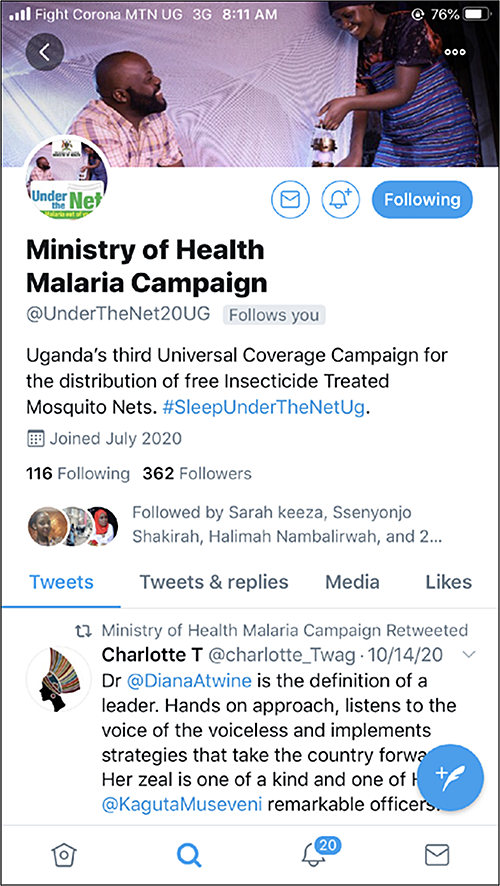 Since 2013, the National Malaria Control Division (NMCD) under the Ministry of Health of Uganda has conducted three mass campaigns to achieve its goal of universal access to insecticide-treated nets (ITNs). The most recent ITN mass campaign was conducted in 2020/2021, during which over 28 million ITNs were distributed across the country. The objective of the campaign was to provide access to ITNs for 100 per cent of the population and achieve 85 per cent use of the nets distributed.   Critical to improving the efficiency of ITN campaign processes and results, social and behaviour change (SBC) activities have evolved to capitalize on an operational environment and context that is constantly evolving.
The overall goal of the SBC strategy was to mobilize relevant sectors of society from the national level to the community level to participate actively in campaign implementation and to create a net culture among the community. SBC activities aimed to achieve this goal by specifically:
Mobilizing communities to register and pick up their mosquito nets
Increasing knowledge on the correct and consistent use of ITNs and hence contributing to the overall reduction of morbidity and mortality due to malaria in Uganda
Increasing knowledge about ITNs and their benefits to the health of individuals, families and the community
Promoting appropriate care and repair of the ITNs
Raising awareness of and guiding communities on ITN re-purposing
To achieve this goal and objectives, the SBC strategy was to promote key information through various communication channels, including mass media (radio, television, print media), SBC materials such as posters and leaflets, and engaging community leaders and groups: traditional communication channels which have been used in previous campaigns. While the use of social media is still relatively low in Uganda (approximately six per cent of the population[1]) there is an increasing number of internet users in the country. To respond to the growing number of users in Uganda, the use of social media was also explored for the 2020/2021 mass campaign.
Maintaining the slogan "Under the net", the campaign used various social media platforms to support, promote and increase the spread of information and data to improve both personal and community reception of the campaign and of ITNs in general. The social media approach was developed with urban users in mind and included the use of Twitter, WhatsApp, Instagram, Facebook, You Tube and Vimeo, to reach out to a diverse population, especially the youth.  The strategy helped to mobilize communities to take part fully in the campaign and promote positive ITN use, care and repair behaviour.
2021 was an election year in Uganda, and campaign messages were often "lost" or "drowned" among the political information circulating via social media. To overcome this, a total of 37 social media influencers, online bloggers and content generators were recruited to popularize the ITN campaign using videos, fliers, press statements, press releases, animations and various success stories. It is estimated that 70 per cent of campaign discussions were driven by influencers[2], and this has a substantial cost in terms of their fees, which is often overlooked during budgeting.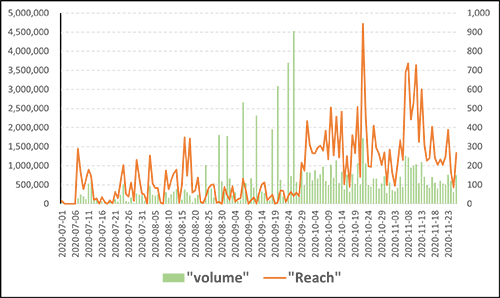 Social media platforms also remained a strong channel to combat mis/disinformation and rumours, particularly as political tension heightened, and fears and misconceptions about ITN distribution were a risk. This was particularly true in urban areas following political demonstrations. Even outside the political sphere, however, social media provides a platform for two-way communication, allowing the public to engage with the campaign and share feedback.
14 million Ugandans (35%) of the population have phones. Out of these 4.8 million possess smart phones and 42% of the people can access internet. This is a representation of about 19 million people (Uganda Communications Commission- UCC Report 2018).
As yet, it is unclear how social media performs compared to more traditional media channels such as radio and television. Monitoring of the SBC activities seems to show that social media platforms potentially have a large reach: during October and November 2020 campaign messages may have reached close to 19 million Ugandans through social media, largely due to retweets and social influencers. This does not mean, however, that it is the most effective and efficient communication channel for all ITN mass campaigns: social media users are largely young people from urban areas, who may not be the most vulnerable to malaria nor the campaign's main target group.
The economic, operational or political landscape may also not be conducive to social media use: whereas extensive use of social media was carried out in the initial days of the ITN campaign in Uganda, an unexpected shutdown of all internet channels and social media platforms during the urban distribution for 14 days at election time affected social mobilization and social media performance.
As well as the fees to influencers, ensuring high quality creative content on a regular basis requires financial and human resources that may not be readily available to campaigns.
Social media is a constantly evolving communication platform which helped the NMCD reach a large number of Ugandans during the 2020/2021 ITN campaign with critical campaign messages:  debunking mis/disinformation and rumours, as well as helping to mobilize communities and promote positive ITN behaviour. Although its impact is yet to be fully evaluated, there is no doubt that social media remains an "opportunity" for campaigns to improve the effectiveness and efficiency of their SBC strategy. The Ugandan national malaria programme will continue to explore and improve its use of social media in the 2023 ITN mass campaign.  It is an adoptable avenue that all countries can deploy to mobilise communities and promote use.
---
[1] https://datareportal.com/reports/digital-2022-uganda#:~:text=Social%20media%20statistics%20for%20Uganda%20in%202022&text=The%20number%20of%20social%20media,on%20data%20to%20learn%20why).
[2] Third national mass campaign for universal access to long-lasting Insecticide-treated mosquito nets for malaria prevention in Uganda. Available at: https://drive.google.com/file/d/1MgW1sje7uAQPZiJspJ3xFvOTNiGLmpo2/view?usp=sharing